Greetings!
The Year of the Horse is galloping along at full-speed! It is already the Holiday Season and time to start planning next year's feng shui workshops.


If you are interested in hosting a feng shui workshop in February or March, please contact me.


Take time now to refresh your permanent feng shui before Thanksgiving and the Winter Holidays arrive. Your season will flow more easily and you will be prepared for the annual workshops next year. For information on permanent feng shui, see my book, Feng Shui Every Day. It makes an excellent holiday gift.


Other excellent holiday gifts: My three chapbooks, i write therefore i am, conversations, and keys, have each been updated and priced at $9. Some holiday cards cost that much! Each makes a nice stocking-stuffer… or pair one with a bottle of wine for a special hostess gift.


For a more unique and exotic gift, consider my unisex perfume, TRANCE. It is a natural and artisan-crafted aroma that will transport you to a secret temple in the mountains, at least through your senses! Order TRANCE now and transcend the now.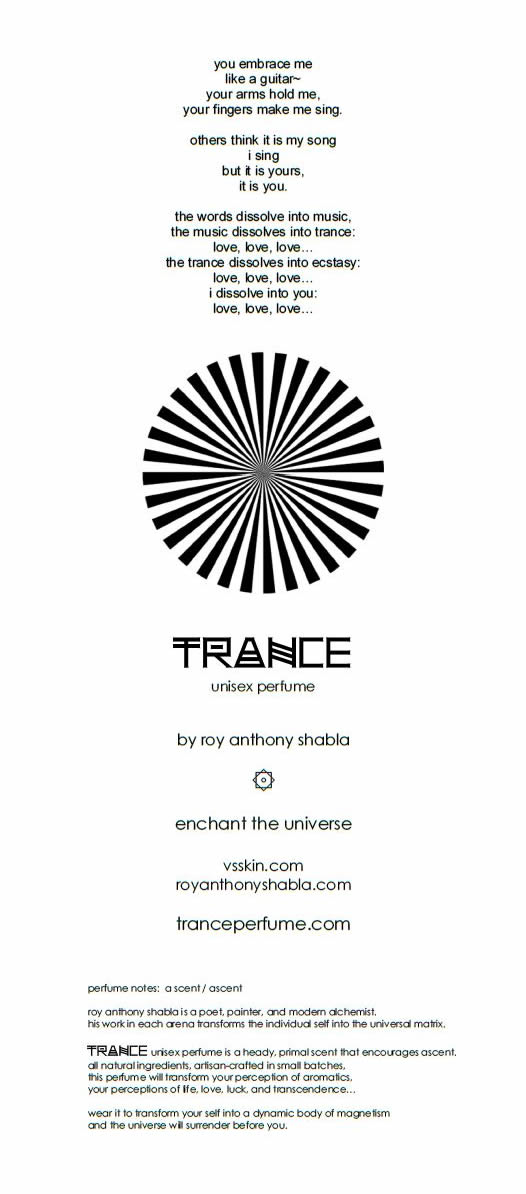 Spiritual Remedies
The Winter Holidays are a time for silver and gold… blessthebody.com Silver Light (to calm and quiet the holiday madness) and blessthebody.com Gold Light (to give a little sparkle to your holiday appearances). Be sure to have these on hand to accommodate each holiday situation.


It is also important to use regularly the Clean House Spritz. Keep your home fresh and hospitable for the Holiday Season. This is the time of year when more junk clogs the energy of yourself and your home.


Make an effort to incorporate a conversation on peace into your daily routine. Let your identity be identified with peace. And send that message into the world.


Be grateful for everything. Happy Thanksgiving.


Roy