September Greetings: Happy Autumnal Equinox!
This is a time of balance, of finding balance, of a balancing act. Take time to meditate. If you are not reading my book RADIANT IN ALL REALMS everyday, this is a good time to start. It will change your life.


As predicted, world-wide conflict escalated this past month. Despite truces, there is the possibility it continues through this month also – it's a balancing act.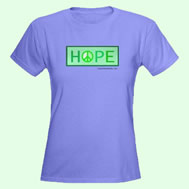 If you are not returning to school or work wearing a Peace Shirt, take time to order one now. Let the world know you stand for peace.




My monthly gathering of poets, artists, musicians, and other creative people – the green salon – will this month host and participate in a world-wide event: 100,000 Poets For Change. Happening September 27th around the globe, 100k P4C will raise awareness of social and political and ecological injustices and work for saving the planet one piece of art (music, poetry, etc) at a time. Everyone is welcome to attend. For more information, "like" the green salon on facebook.


Spiritual Remedies
Recent scientific studies have shown that precious metals such as gold prevent and cure cancer. While no such claims can legally be made about the blessthebody.com Spiritual Remedies, regular users of Silver Light and Gold Light remain healthy. Combine those with blessthebody.com Green Light to keep your body, mind, and spirit healthy and balanced.


Feng Shui
There is an abundance of money in the universe and this month, extra money can flow to you. After using the Clean House Spritz, use the Prosperous House Spritz everyday.


This is also a month of excited romance. Once again, after using the Clean House Spritz, use the Romantic House Spritz every day.


Some of the severe challenges for the month can be mitigated by using the Clean House Spritz itself.


The monthly feng shui treatments list gives more information.


Thank you for your love and support.