Greetings.
It is the ten-year anniversary of the American Tragedy of September 11th. You may have forgotten about it, there has been so much tragedy and drama since then, but the aftermath remains strong. We are still at retaliatory war in Afghanistan even though Osama Bin Laden is dead. We are still at war in Iraq even though that country had nothing to do with the Tragedy of September 11th nor did it have "weapons of mass destruction". These wars have destroyed more lives than were lost and affected by the loss of September 11th. These wars are bankrupting this country, both financially and emotionally. But especially spiritually. To heal the psychic wound left by this tragedy, we must heal the aftermath of the tragedy. Stop all war now. STOP ALL WAR NOW! Let September 11th be a symbol for the futility of war. Demand an end to senseless death and destruction. An eye for an eye leaves the whole world blind.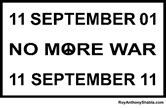 Send a postcard to the White House now. Let President Obama know that war is not a winning endeavor. No-one wins a war. Remind President Obama he promised to bring the troops home. Use the above design to show solidarity. Make the "o" in "more" a peace sign. MORE PEACE. Share this with your children and parents, your friends, neighbors, co-workers. Whatever your church, share this with the members of your church, the leaders of your church. Post a banner on your home (like I do). Make an effort and make a difference.
President Barack Obama
The White House
1600 Pennsylvania Avenue NW
Washington, DC 20500

To print out free, black and white, 8 ½ x 11 peace posters, go to: RoyAnthonyShabla.com. Post them in the window of your car and home. You will also find on the websites: peace shirts, buttons, stickers, and other accessories… as well as my excellent book, (PEACE) WORDS. Immerse yourself and your loved-ones in peace. Give peace gifts, give peace a chance. It is the best gift to ourselves and the generations to come.
Autumnal Equinox
September 22 marks the transition from Summer to the first day of Autumn. Let this natural progression encourage you to reflect on the natural progressions of your life. Take a moment on this day and the next to evaluate the hopes and dreams of your childhood and how they pertain to your current self. Both enjoy and embrace the transition.

As Mercury (the planet) went direct, the mercury (thermometer) went up. The temperatures remained cool for August (in Los Angeles and elsewhere) while Mercury was retrograde (and during the galleRoy @ casa la reina Summer Art Party) but then immediately changed when the planet turned. Now is the time to continue safely with contracts, communication, travel… business should bounce back from the Mercury "slump".
Mark Your Calendar
The galleRoy @ casa la reina Summer Art Party Extravaganza was a wonderful event and everyone had a great time. If you missed it, you missed something! There won't be another until next year.

Likewise, if you did not get out to Santa Monica California, Bergamot Station, Shoshona-Wayne Gallery to see Chain Letter and my large, painted sculpture, the brain (of dc), you missed something. It was a "happening" that was well documented in all the major art media. And my work was well photographed.

But there is hope: if you missed these events, here is another chance for you to experience genius culture:
8 October 11

galleRoy and Downey Arts Coalition
are proud to announce

8 on the 8th

8 new paintings by
Roy Anthony Shabla

as part of the series
Art on the Vine

sponsored by
Downey Arts Coalition and Maris Wine Bar

opening reception
Maris Wine Bar
Downey California
8 October 11
6 to 9 pm
Remedies
During times of transition (solstices and equinoxes, puberty and menopause, weddings or back-to-school), use blessthebody.com Chakra Tonic with First Aid. If you are sensitive, add blessthebody.com Bright Brain.

During times of social activity (Homecoming, Fall Formal, the Holiday Season), use blessthebody.com Gold Light and Pink Light. If you are sensitive, add blessthebody.com Aura Spritz.

May the Autumn Season refresh your soul and bless your life with grace and peace and joy.
Feng Shui
The season of feng shui has reached its peak. Disaster in the East sector for the year and in the Northeast sector for the month of August resulted in drama on the East Coast of the United States for the last couple weeks. Earthquake, hurricane, poor political decisions (during Mercury retrograde), etc. will leave a wake of disaster that continues into the future.

The feng shui treatments for this month are very important. Death and disaster are very strong and conflict increases. But if you keep your eye on the money, some wonderful things may happen. If you don't, it will continue to flow down the drain.

For the monthly feng shui treatments, see blesstheworld.com.

Please note: you are now able to print the monthly feng shui treatments to keep in a personal archive.

RoyAnthonyShabla.com, galleRoy.com, and blesstheworld.com wish you the very best during this season of transition. Thank you for your love and support.