Feng Shui ~ Feng Shui ~ Feng Shui !
Yes, it's that time of year again to re-do your "space" to be in harmony with the energies present for this Chinese New Year of the Tiger.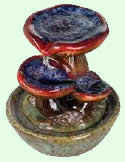 This re-do is not the same as your everyday Feng Shui (see my book Feng Shui Every Day). It is specific only to this year and should only de done with the consultation of a Feng Shui Master.
This is THE reason why you need to attend one of the remaining Feng Shui Workshops or set up a private consultation with me.
The feng shui tips specifically for March can be found here on blesstheworld.com.
For Feng Shui accoutrements go to the blesstheworld.com Feng Shui Shops.
Karma Cleanse ~ Remedy of the Month
Are you thinking about money, prosperity, abundance, romance, communication or conflict? Karma Cleanse covers all of these issues, and more!

Change the way you face life.

Use Karma Cleanse.

Read the detailed information on blessthebody.com Karma Cleanse.

Purchase Karma Cleanse now.
Psychic Updates for March 2010
Updated psychic and feng shui predictions for conflict and resolution are posted to blesstheworld.com. How's your Tiger doing?
Travels With Roy
I have been travelling up and down the California coastline this month ~ by car ~ by plane ~ by train (not really ~ it just sounded good!). I'm now in Dallas, and off to Florida in a couple of weeks. The Feng Shui Workshops are going wonderfully. Many people are tuning up their lives and their abodes.

That includes me! Of course, I might go just a bit overboard in my own home. If I added up the weight of all of the items I shifted around this year, you would all be amused!

Shift some weight of your own and enjoy the new year!
Many blessings from RoyAnthonyShabla.com, galleRoy.com, and blesstheworld.com.

Happy March!