Greetings!
Recently, I have had the no-small project of re-examining my book manuscripts ~ editing and correcting them ~ and now, the updated versions are uploaded to the publisher. I am impressed with how well they are written, especially eating God and (PEACE) WORDS (though all are great), and I am proud to be their author.
Copies of eating God and (PEACE) WORDS are being sent with a case of blessthebody.com First Aid to Under The Hood in Killeen, Texas ~ a café and meeting center for soldiers at Fort Hood interested in peace and peaceful works. The tragedy at Fort Hood is a shocking example of an everyday life out-of-balance.
blessthebody.com First Aid and copies of eating God are regularly sent to sites of tragedy (see newsletters on September 11th, Hurricane Katrina, and Virginia Tech to name a few) ~ First Aid being the best spiritual remedy on the planet for shock and trauma… and eating God being such a comfort to the mind and soul. They are a perfect combination for someone in a state of grief or hysteria. I am, this time, also sending copies of (PEACE) WORDS because of the nature of the site to which the package is being sent. May this box of healing, this "care" package, begin to relieve the effects of the tragedy at Fort Hood and help those involved regain a balanced life.
Many of you know, I received a thank-you note from President Barack Obama for the copy of (PEACE) WORDS I sent him in honor of his inauguration. If (PEACE) WORDS is appreciated by the current Nobel Laureate in Peace, it will certainly be appreciated by you.
All my books are less than $15. They make great hostess gifts, stocking stuffers, and Secret-Santa office-exchange gifts. Keep a couple on-hand for surprise holiday visitors. They are unique and charming… and now newly edited!
For those not in the know:

Roy Anthony Shabla is an esteemed poet and writer with credits in both fiction and non-fiction on various subjects. His work is known for its humanity and its startling epiphanies on the reality of human nature, often with a humorous bent.

He is the author of seven books, most notably, eating God and (PEACE) WORDS, each of which chronicles the progress of a spiritual person in the physical world.

Excerpts from eating God and Soundtracks for Film have been used in several short art-films, one of which is the poetic masterpiece, body of water.
(PEACE) WORDS
This is the most autobiographical book I have written thus far. It is a "portrait of the artist as a young vandal" complete with confessions of illegal international activities. It is also a moving story of finding one's artistic self in the world despite current trends and styles. The backdrop of the narrative is the peace, human rights, and ecology movements and it is a beautiful primer on the work of peace, protest, and public art. It is even more important and powerful during this time of lingering war. Karma yoga is selfless and benevolent activity ~ from personal acts of kindness, generosity, and hospitality to charity and activism in the world. This book documents a search for self through the personal journey of art and activism, graffiti and rebellion. (PEACE) WORDS is a highly engaging and motivational read.
Print: $12.99
eating God
This is the updated and expanded version of the highly acclaimed book of ecstatic poetry, eating God. It is a transcendent cycle of poems documenting the spiritual awakening of a simple man in the modern world. It will delight and refresh you with its reality and compassion. This is a book you will read and read again. And share with others. "If poets could be superstars, at least in this time and country, Roy Anthony Shabla would be the man to watch!" ~Spirit of the Valley. This book removes God from the stranglehold of religions and offers the reader the possibility of spirituality on a personal basis. eating God is a book of surprising poems chronicling the spiritual development, humanity, and true compassion of a friend of the divine. Prepare to be delighted, moved, and changed.
Print: $14.99
Feng Shui Every Day
This is a feng shui book anyone can use. Simple, clear ideas about architecture that will change your life. Includes secret information most masters will not reveal. Do not buy or remodel a house without it. This book is your most important purchase during difficult economic times. Highly praised by feng shui experts. Feng shui is the ancient science of architectural ecology which manipulates subtle energies to influence Earth-luck. Simple feng shui remedies can divert disaster and attract prosperity, romance, and vitality into your home. This book will change your life and the lives of those you love.
Print: $11.99
Feng Shui Every Day has been a great and repeat seller since its first publication. An East-coast publisher has expressed interest in producing a fine, hardback edition… but such negotiations are neither simple nor timely. Get your copy of this version while it is still available and affordable.
Child Harold at the Zoo
This is the coming-of-age story of a regular boy in an irregular world, the story of a divine boy in a mundane world. It is perfect reading for anyone trying to find a relationship with his own family or anyone trying to find a place for himself in society. Very quirky and funny, very real and enchanting. Gives you hope about being in this crazy universe. There is no normal childhood, no normal family. And the blessing of living with oddity is that it grounds one's experience of the world. This book tells the story of a boy who observes his strange family, friends, and acquaintances with a non-judgmental and sometimes compassionate and appreciative eye. A must read for those struggling with issues of identity and individuality, especially teenagers or those in psychological therapy. A special delight for everyone.
Print: $9.99
Child Harold at the Zoo remains the absolute favorite of many of my clients and students. Find out for yourself why it is so engaging.
For the sophisticated reader, poet, searcher, lover in your life, the Blue Period fine art prints make a great gift.

Blue Period is a series of letterpress prints with hand-painted watercolor details, each illuminating a different poem. there is no home is a sensitive and poignant poem that resonates deeper with each reading (see sidebar). It is the third in the Blue Period series, a limited edition of fifty ~ 100% cotton and acid free paper ~ each print one-of-a-kind, $28. Purchase print. It makes a wonderful gift.

In traditional feng shui, written poetry is regularly used to uplift the spirit and generate grace. Because of the blue color of the prints in the Blue Period series, not only is this a great basic feng shui treatment but also a great augmentation to any water-element treatment. Art and poetry can improve your life in a wonderful way.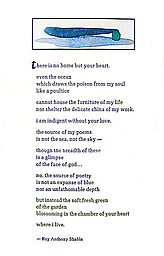 The other two poems in the Blue Period series are: if you have not seen the earth and it is not a song (see sidebar).

This has been the "Literature Newsletter". I'm hoping to announce the release of a dvd of short art films based on my poetry very soon.

Happy Thanksgiving.